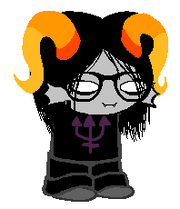 Your name is SIEVRI SHRELM
and you are a SIX SWEEP TROLL with a variety of STRANGE INTERESTS. You have always considered yourself to be A BIT OF AN OUTCAST. You have a small amount of friends, but who needs friends when you are an ACTIVE ADVENTURER? Well, not really. More of a WANNA BE EXPLORER. You tend to spend your free time practicing with your AWESOME WAND. You think your wand is amazing, and no one can convince you otherwise. Anyone who says it's stupid is simply full of themselves and MUST be lying. They're just jealous. Your interests include ADVENTURING, usually taken place in the small wooded area near your hive. There's just so much to see. You also enjoy taking PICTURES OF SCENERY, and quite frankly, you think you are PRETTY DAMN GOOD AT IT. You really like DRAWING, and WRITING FICTOUS STORIES ABOUT YOUR ADVENTURES THAT NEVER REALLY HAPPENED, even though you are SORT OF AN AMETUR. You seem to have a thing for 50'S HUMAN GREASERS, and MUSICALS NAMED AFTER VARIOUS HAIR PRODUCTS. Most people call you a HIPSTER, but you DENY THOSE ASSUMPTIONS. You are in no way a hipster. That's just stupid and too mainstream.
Quadrants

Moirail-

None




Matesprit-




Tifane Revara




Kismesis-




None




Ausptice- 




None
| | |
| --- | --- |
| Lusus | Pufferfish |
| Trollian Handle | aquaticTomfoolery |
| Quirk | Replaces S with 5, T with 7, I with 1, uses commas and proper punctuation. |
Ad blocker interference detected!
Wikia is a free-to-use site that makes money from advertising. We have a modified experience for viewers using ad blockers

Wikia is not accessible if you've made further modifications. Remove the custom ad blocker rule(s) and the page will load as expected.