Your name is SCATHA WYRDEN. 
Scatha Wyrden

Name

Scatha Wyrden

Age

7 solar sweeps

Caste

cerulean

Typing Quirk

Types with correct spelling and capitalization, but occasionally leaves out a period or comma. Uses emotes frequently >:D

Lusus

Anacondamoom

Planet

Land of Insanity and Rust

God Tier

Maid of Blood

Relationships

Matesprit: none. Kismesis: none. Moirail: none. Auspistice(s): none.

Modus

Game Grub Modus-- one must find the name of the object captchalogued written inside an edition of Game Grub (it doesn't matter which) in order to use it. Naturally, this creates trouble with more obscure items.

Strife Specibus

Bookkind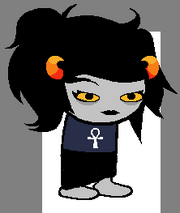 You are of the CERULEAN CASTE of the hemospectrum, and you MAKE SURE OTHERS KNOW THAT. This can seem a BIT CONDESCENDING and RUDE, but you DO NOT CARE. You have a variety of interests. You have a passion for STUDYING ALTERNIAN FAUNA, but you keep this to yourself because you DON'T WANT TO LOOK STUPID. Occasionally, you indulge in a SAPPY REDROM NOVEL.
You are a Derse dreamer and your planet is the Land of Insanity and Rust.
[will add later]
Other Information
Edit
[will add later]
Ad blocker interference detected!
Wikia is a free-to-use site that makes money from advertising. We have a modified experience for viewers using ad blockers

Wikia is not accessible if you've made further modifications. Remove the custom ad blocker rule(s) and the page will load as expected.