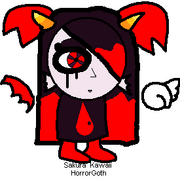 Your name is SAKURA KAWAII. You are the DESCENDANT of THE PETTANKO. You live with your DANCESTOR,
KATARA KAWAII
, and your NINE TAILED FOX LUSUS, ICHIGO. you are 9 SWEEPS OLD, but you look FIVE anyway. Your LAND is the LAND OF BLOOD AND SHADE, and you are a DERSE DREAMER. your HIVE is in an ABANDONED CHURCH. you dont care about RELIGION anyway. But anyways you are a SUBJUGGLATOR like your boyfriend
GAMZEE MAKARA
. YOU AND GAMZEE have a FUTURE DAUGHTER together named
ATSUKI MAKAII
. You are also a DAYWALKER, a RAIMBOW DRINKER, and A SEASKYDWELLER. YOU like HORROR MOVIES and SCARY ANIME. you also like YAOI. you DONT CARE about THE HEMOSPECTRUM. YOU are A GOTH TROLL, and a TROLL TWILIGHT FANGIRL. YOU are also TROLL RIVER SONG, wich means YOU ARE HALF HUMAN ON YOUR MOTHER S' SIDE. YOU wear a shirt with a BLOOD DROP on it. APROPOS of BLOOD, YOUR BLOOD is BLACK, while your TWIN SISTER s',
SUMOMO KAWAII
s', is WHITE. YOU use GAMZEE S' FACEPAINT to make your skin LOOK MORE WHITE. YOU have PSICHIC POWERS and your STRIFE SPECIBUS is GOTHKIND, where you use your MIND to MAKE PEOPLE HURT THEMSELFS. YOUR SYLLADEX is a BASKET where YOU CAN PUT EVERYTHING. your YOUNGER BROTHER is
ERIDAN AMPORA
, and you ARE PROUD of having CULLED
VRISKA SERKET
.
Ad blocker interference detected!
Wikia is a free-to-use site that makes money from advertising. We have a modified experience for viewers using ad blockers

Wikia is not accessible if you've made further modifications. Remove the custom ad blocker rule(s) and the page will load as expected.