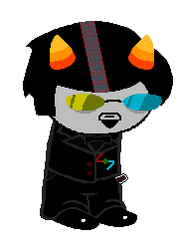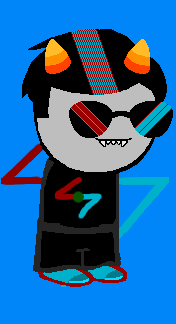 Profile


Name


Aerius Sakino


trollTag


omnivorousMonster


Caste


Red (#70160b)


Typing Quirk


EvEry instancE of thE lEttEr 'E' is capitalized.


Symbol


Z with a dot and is diagonal.


Sylladex


Bag


Strife Specibus


Knifekind

SGRUB Session


Title


Lord of Air


Land


Land of Sky and Emotion


Dream Self


Prospit


Prototypings





Team


Team Wane


Team Position


Leader

Social


Lusus


Giant Tortoise


Matesprit


None


Kismesis


None


Auspistice


None


Morail


Xannar Rennik

Name Information
Edit
The name AERIUS is derived from WIND. Sakino was just random.
Team/Session History
Edit
Aerius is the leader of his team, the other leader being nighNonpareil. You made derangedInsight the Co-leader of your team. TEAM STRUCTURE:
Leader: Aerius Sakino *
Co-Leader: derangedInsight *
Member: psychiactricHaliboltic *
Member: acrimoniousVellicate *
Member: obliviousUltimatum *
Member: nucleicBachelor *
||*= In medium
Be the MultiColored Guy
Edit
Your name is Aerius Sakino.

You have a variety of interests including MUSIC, READING, POETRY, VIDEO GAMES, AND CUTE THINGS. You also hate many things such as FLARP, WIZARDS, AND MAKE-BELIEVE THINGS. You also hate it when you get lied to, trolled, or insulted. Many trolls have payed the price for this, you punished them severely. People are always getting on you about how mean you are and evil but whatever. You aren't evil you're just misunderstood. You are actually just a sensitive loser who is mean because you don't want anyone to see the real you. You colect cute things and your hive is covered in them and pictures of yourself and friends.
Your lusus is a giant tortoise and you don't see him often because he just does his own thing. You spend moist of your time with your friends just hanging out. You and them do lots of stuff, but most of the time you just play video games. You haven't left your hive because it is lodged in the side of a cliff. On the outside it looks ike a normal cliffside hive but inside it is a real cute and classy place. You wear lots of hats and love to wear tuxedos and other formalwear because it is so cuuuute.
You have an uncanny ability to manipulate trolls to a certain extent. Although you have limited psychic abilities you still use weapons, your strife specibus is allocated to Knifekind. Your Sylladex is the Bag modus, you have 42 cards. Any item may be retrieved at any given time, it's just like a bag, why do things have to be complicated?
Your trolltag is omnivorousMonster and you capitilizE EvEry instancE of thE lEttEr 'E'.