it'ss okaY to be ssad~ unlesss You're being a sspoiled brat, becausse that'ss extremlY annoying~ >:[-<

Title

Heir of Mind

Age

6 Alternian solar sweeps (13 earth years)

Screen Name

spittingCobra

Typing Style

no capitalization, doubless or tripless the "s"s depending on the wordss~ onlY capitalizess the "Y"ss~ usses ssnake punss and ssnake related emoticonss like ;)-< OyO ^y^ and often endss phrassess with a "~" ssYmbol~ writess "hiss~" when bored~

Symbol

Snake (Constellation "Serpens")

Planet

Land of Trees and Waterfalls
>Be the snake dude
Edit
Your name is SERPEN VIBORA. You like think of yourself as REALLY COOL DUDE even thought that everyone else sees you as a NERD. You seem to be quite affectionate to HISSINGBEASTS, since you keep so many of them in your room. But you can't help ACCIDENTALLY KILLING one or two by STEPPING ON THEM, you get very emotional after that.
Your HORNS seem to have AWKWARD SHAPES and you still haven't figured out what they're suppose to be. You do think that one of them is a SNAKE TONGUE and the other's probably a TAIL, they're probably the reason for why you like the HISSINGBEASTS so much.
Your trolltag is spittingCobra and You like to sspeak like if You were a ssnake~ :)-<
He's an OVERLY POSSESSIVE FOUR EYED DOUCHE SNAKE THAT EATS GRUBS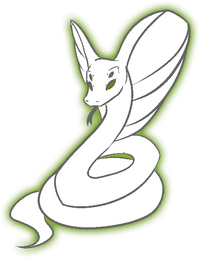 Ad blocker interference detected!
Wikia is a free-to-use site that makes money from advertising. We have a modified experience for viewers using ad blockers

Wikia is not accessible if you've made further modifications. Remove the custom ad blocker rule(s) and the page will load as expected.